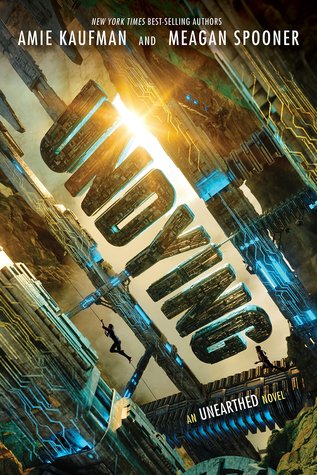 "Undying" by Amie Kaufman and Meagan Spooner
Source: Library
Genre: Young Adult Fiction, Science Fiction
Summary:
Trapped aboard the Undying's ancient spaceship and reeling from what they've learned there, scavenger Mia and academic Jules are plunged into a desperate race to warn their home planet of the danger humanity's greed has unleashed. From the mountains of Spain to the streets of Prague, the sequel to Unearthed is a white-knuckle ride that will send readers hurtling back to earth, and leave them breathless until the last page.
Before I get started, I have to say a HUGE thank you to Amie and Meagan for putting in a letter to readers that did a quick recap of Unearthed. I read a LOT so my memory can get pretty fuzzy if it's been a while since I've read the book.
Undying managed to keep the fun adventure going even though we lost the fun setting of outer space. Sure, the story starts in outer space but we do eventually end up back on Earth. We also ended up on a road trip to save the world which is a bit cliche. I did miss the puzzles from the first book.
The big twist of making the Undying humans from the future was cool. I love a good alien story so it was a bit disappointing that they weren't truly alien. The idea of our enemies being us is a terrifying idea. Atlanta and Dex were a great addition to the story. Having two teenage Undying stuck with Mia and Jules made sense.
The science behind everything got a bit murky for me. The lost Centauri mission got lost and did some space jumping? This leads to some sort of time jumps which puts them much further in the future than we are. I know better than to fully understand the science in my science fiction so I'm okay to just roll with it.
This was the end of the duology. Despite that, there was a very middle book of a trilogy feel to the story. Things were laid in place that made you think more was to come. The story does fully wrap up in the end but it still feels like there should be more.
The bottom line? Enjoyable wrap-up.
Instagram | Goodreads | Facebook | Pinterest | Support the Blog