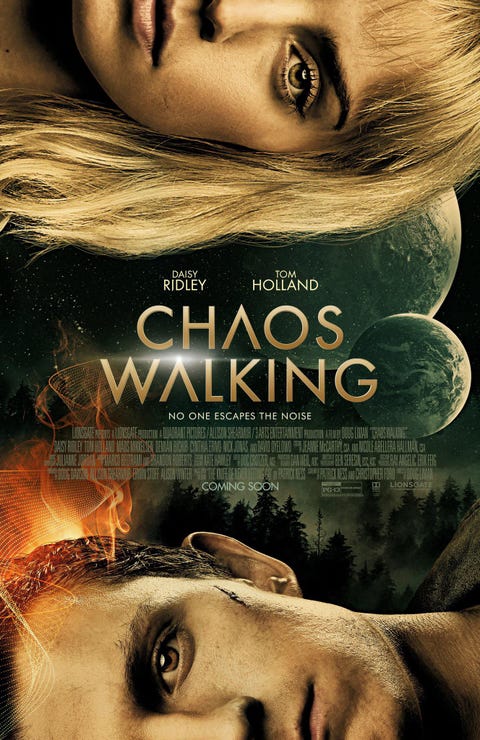 Rated: PG-13
Staring: Tom Holland, Daisy Ridley
Summary:
Two unlikely companions embark on a perilous adventure through the badlands of an unexplored planet as they try to escape a dangerous and disorienting reality, where all inner thoughts are seen and heard by everyone.
---
Interesting choice on how Noise was portrayed. I had always imagined it more like words (like in the books) but the visuals make more sense especially in a movie and it's easier to portray what is happening. Plus it's a nice parallel to the real world since some people think in pictures vs words.
There's a whole mess of changes that made this into an unfortunate mess. I don't even know where to begin with everything. [I don't think it's quite Percy Jackson-level bad but it's also very not good.]
The introduction to everything seems like it would be confusing. [Non-readers, how confused were you?]
We start off on the wrong foot with Todd going to immediately to the Mayor about the thief/ship/Viola. That just immediately shifts Todd's character. In the book, when Todd encounters the silence, he goes home to ask his parents about it who then kinda fill him on everything before Todd running for his life.
WHERE'S THE ANIMAL NOISE?! Part of the foreignness of Viola is she is this pocket of perfect silence on this endlessly noisy planet. Plus the noise is what makes Manchee so endearing.
Davy is woefully underused. I was initially annoyed by the casting of Nick Jonas but after seeing him in the Jumanji movie, I was curious to see more.
Then there's the ending. That's such a mess. By killing off the Mayor, I'm assuming that means we don't have any other movies coming?
It's probably for the best. This has been stuck in production limbo for ages, released during a pandemic, and all we got is a hot mess.
Instagram | Goodreads | Facebook | Pinterest | Support the Blog