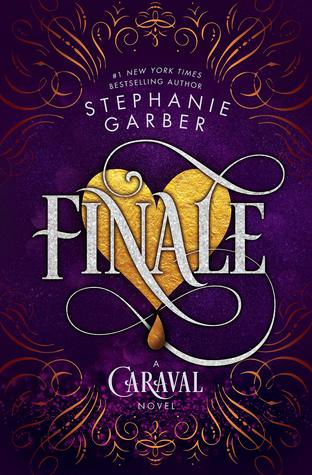 "Finale" by Stephanie Garber
Source: Library
Genre: Young Adult Fiction, Fantasy
Summary:
A love worth fighting for. A dream worth dying for. An ending worth waiting for.
It's been two months since the Fates were freed from a deck of cards, two months since Legend claimed the throne for his own, and two months since Tella discovered the boy she fell in love with doesn't really exist.
With lives, empires, and hearts hanging in the balance, Tella must decide if she's going to trust Legend or a former enemy. After uncovering a secret that upends her life, Scarlett will need to do the impossible. And Legend has a choice to make that will forever change and define him.
Caraval is over, but perhaps the greatest game of all has begun. There are no spectators this time: only those who will win, and those who will lose everything.
Welcome, welcome to Finale. All games must come to an end…
Well, that was underwhelming. Part of the magic of Caraval and Legendary was the game. The game was enchanting and you never knew what was real. Finale had no game so the biggest chunk of magic simply wasn't there.
Instead, the book focuses on The Fates. To me, The Fates (and that entire storyline) seems so detached from Caraval's original story. I really had a hard time caring about that particular part of the story. Scarlett's connection to The Fates really came out of no where. It just wasn't for me.
The unnecessary love triangles are back in full force. The reader knows who Scarlett and Tella will choose so it's just obnoxious to continually focus on the will-they-or-won't-they storylines with the love interests. Honestly, I didn't feel much in regards to any of the romance. I wasn't cheering anyone on. I wasn't grinning so hard my cheeks hurt. I was just 'meh' about it.
The story was engaging enough because I finished the book, I was just left wanting more from this glamorous world.
Instagram | Goodreads | Facebook | Pinterest | Support the Blog