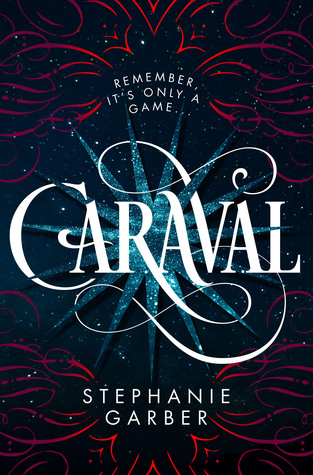 "Caraval" by Stephanie Garber
Source: Owlcrate
Genre: Young Adult Fiction, Fantasy
Summary:
Remember, it's only a game…
Scarlett Dragna has never left the tiny island where she and her sister, Tella, live with their powerful, and cruel, father. Now Scarlett's father has arranged a marriage for her, and Scarlett thinks her dreams of seeing Caraval—the faraway, once-a-year performance where the audience participates in the show—are over.
But this year, Scarlett's long-dreamt-of invitation finally arrives. With the help of a mysterious sailor, Tella whisks Scarlett away to the show. Only, as soon as they arrive, Tella is kidnapped by Caraval's mastermind organizer, Legend. It turns out that this season's Caraval revolves around Tella, and whoever finds her first is the winner.
Scarlett has been told that everything that happens during Caraval is only an elaborate performance. Nevertheless she becomes enmeshed in a game of love, heartbreak, and magic. And whether Caraval is real or not, Scarlett must find Tella before the five nights of the game are over or a dangerous domino effect of consequences will be set off, and her beloved sister will disappear forever.
Welcome, welcome to Caraval…beware of getting swept too far away.
Caraval is quite the adventure. Garber creates a Wonderland-esque world full of mystery. I loved the twists and turns. Nothing is what it seems so you don't know what to expect and I love that. Even on my reread, I was pleasantly surprised with the turns. [I have a terrible memory for books which is why I had to reread it.] The world building is a bit shaky but I was fine just sitting back and enjoying the ride.
This was a reread for me and I'm still not a Tella fan. I know there's more to her (and I've been told I'll like her more in Legendary) but her foolhardiness bothers me. I suppose it's because I'm more grounded and realistic like Scarlett so Tella's ways just drive me batty. It's lucky that things worked out well but that was one heck of a chance to take!
I go back and forth with Garber's prose though. It is lovely and magical. Other times, it's heavy handed and I skim over it. For example: "He tasted like midnight and wind…". WHAT DOES THAT EVEN MEAN?! It sounds pretty, I guess? The story flows very well though and I hated putting the book down.
I'm currently indifferent to the insta-love going on. I am happy the Count is out of the picture but I'm not sure on Julian. I can understand being smitten with him but love? Eh, we'll see. Then there's the whole old-enough-to-date-her-grandmother thing going on which is a bit odd.
All in all, a magical journey.
Instagram | Goodreads | Facebook | Pinterest | Support the Blog