This isn't my first attempt at book blogging. I ran The Cheap Reader for a number of years before burning out. I'm dusting off some of my reviews and giving them new life over here.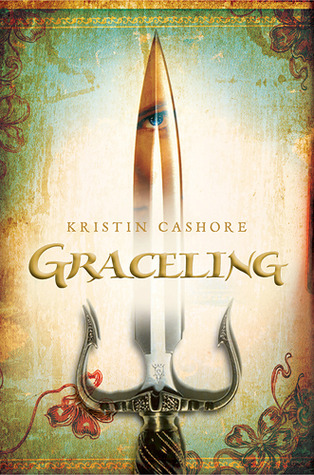 Katsa has been able to kill a man with her bare hands since she was eight—she's a Graceling, one of the rare people in her land born with an extreme skill. As niece of the king, she should be able to live a life of privilege, but Graced as she is with killing, she is forced to work as the king's thug.

She never expects to fall in love with beautiful Prince Po.

She never expects to learn the truth behind her Grace—or the terrible secret that lies hidden far away . . . a secret that could destroy all seven kingdoms with words alone.

Summary from Goodreads
Review
Oh boy, where do I begin with this book. Cashore creates a wonderful story with such ease. I was drawn in almost right away. I wanted nothing more than to get lost with Katsa, Po, and Bitterblue.
Can we talk about how much I loved Katsa? I love strong heroines. Not to mention she's totally able to take care of herself. Most of all, I appreciated her approach to romance. She's not one of those girls who falls in insta-love. (YAY) She's actually pretty hesitant about falling for Po. She almost doesn't want it and is scared about being with him. It's one of the most true to life interactions I've read. Being that open and honest with anyone is terrifying. She's got a good head on her shoulders and she's not afraid to be honest about what she wants (or rather what she doesn't want). Po was just wonderful as well. I don't normally get wrapped up or swooned by fictional guys but he definitely won my heart.
The story was a bit long and complex. The story was paced pretty well. It is long but I never felt like it was dragging. The story moved perfectly along for my taste. Cashore was able to mix the action and the "feelings" pretty well. I never felt like I was overwhelmed with either one. I'm still a bit fuzzy about everything that happened and the circumstances surrounding the story. I enjoyed the idea of being Graced. I know there probably aren't "rules" to it but I would have liked to know more about it. What exactly is it? What can you be Graced with? Where does it come from? Why is it such a bad thing? I need more information!
The bottom line? I loved this book. You should pick it up ASAP if you haven't already read it.
It is not a peaceful time in the Dells. The young King Nash clings to his throne while rebel lords in the north and south build armies to unseat him. The mountains and forests are filled with spies and thieves and lawless men.

This is where Fire lives. With a wild, irresistible appearance and hair the color of flame, Fire is the last remaining human monster. Equally hated and adored, she had the unique ability to control minds, but she guards her power, unwilling to steal the secrets of innocent people. Especially when she has so many of her own.

Then Prince Brigan comes to bring her to King City, The royal family needs her help to uncover the plot against the king. Far away from home, Fire begins to realize there's more to her power than she ever dreamed. Her power could save the kingdom.

If only she weren't afraid of becoming the monster her father was.

Summary from Goodreads
Review
I have to say I'm immensely impressed with Miss Cashore. She is able to take a type of book that I struggle with and make it easy to read and highly enjoyable for me. I like fantasy books. I really do. I don't get along with most high fantasy books for whatever reason. [I guess I'm more of a urban fantasy girl.] I've tried and tried and just don't like them. Somehow, Cashore is able to make me love her version of high fantasy. Yes, I'm still a bit fuzzy about the different kings and why exactly they're fighting but I'm also able to track the story pretty closely and be glued to the book.
Surprisingly enough, I actually enjoyed the romance aspect of the story. Much like Graceling, the romance(s) were a slow build so I grew to love the people like Fire did. I loved the lack of insta-love. I wasn't a big fan of the soap opera aspect of the story. Don't get me wrong. Jealousy, anger, surprise pregnancies, and secrets make for great story. I just wasn't expecting that for this story.
Like Graceling, there was a good mix of action-y fun stuff and some slower paced story building stuff. They are intertwined nicely so I never felt overwhelmed with the action or bored with the story building.
I was a bit unsure of how I was going to like the fact that this is a companion to Graceling and not a sequel. I loved Graceling! I want to be with Katsa, Po, and Bitterblue again. Why are we going back in time? Ugh. Well, I'm just going to go ahead and bite my tongue because I don't know what I'm talking about it. Silly Alison. The going back in time worked pretty well. My memory is a bit terrible but I'm pretty sure Fire helps explain some the history, kings and all that stuff going on during Graceling. It does introduce a character that I do remember is terrible from Graceling though. Maybe it would be better to read this book before Graceling? You should at least read them closer together so you're not fuzzy on details like I am.
The bottom line? I didn't love it as much as I loved Graceling but it's still great story!
Eight years have passed since the young Princess Bitterblue, and her country, were saved from the vicious King Leck. Now Bitterblue is the queen of Monsea, and her land is at peace.

But the influence of her father, a violent psychopath with mind-altering abilities, lives on. Her advisers, who have run the country on her behalf since Leck's death, believe in a forward-thinking plan: to pardon all of those who committed terrible acts during Leck's reign; and to forget every dark event that ever happened. Monsea's past has become shrouded in mystery, and it's only when Bitterblue begins sneaking out of her castle – curious, disguised and alone – to walk the streets of her own city, that she begins to realise the truth. Her kingdom has been under the thirty-five-year long spell of a madman, and now their only chance to move forward is to revisit the past.

Whatever that past holds.

Two thieves, who have sworn only to steal what has already been stolen, change her life forever. They hold a key to the truth of Leck's reign. And one of them, who possesses an unidentified Grace, may also hold a key to her heart . . .

Summary from Goodreads
Review
I'm not sure I could tell you exactly what it was but there was something different about Bitterblue. Maybe it was the writing style because it didn't really feel like Graceling or Fire. Not that it's bad thing but there is something that was different.
I was initially annoyed a bit at how different Bitterblue was. Yes she's different than the 10 year old that we left in Graceling but I was thinking more about how she's different than Katsa and Fire. Both of those ladies are strong heroines. I'd say they're different types of strong but still undeniably strong. Then there's Bitterblue. She didn't go out to kick butt and take names like Katsa or Fire. Instead she stays close to her kingdom. I originally saw this as almost a weakness but I've come to see that realize she's being strong in a different way. She is the queen. She has a whole country to care for and rebuild. Leck's been gone for a while but the wounds from his tyranny are still very visible. It's going to take a while for everything to get back to normal. She has to think of other people not just herself.
I loved that we got to see old characters again. For whatever reason it just didn't feel like them though. Katsa and Fire seemed a bit cold. I guess it makes sense though. Their characters were a bit cold in their books but you didn't feel it or see it because the story was from their point of view. Po was different though. I adored him in Graceling. He was warm and charming and just loveable all around. Here I didn't feel it as much. Don't get me wrong, I still liked him. I grew fond of him over the course of the story but it just wasn't the same guy I swooned over in Graceling.
The bottom line? I liked it but it's not my favorite of the series.