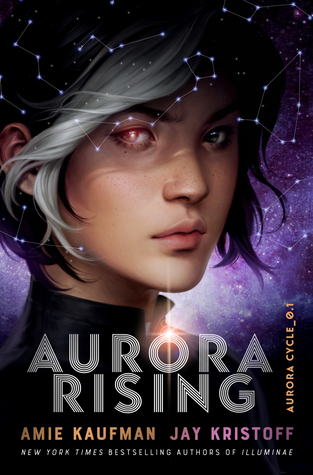 "Aurora Rising" by Amie Kaufman and Jay Kristoff
Source: ARC in exchange for an honest review
Genre: Young Adult Fiction, Science Fiction
Summary:
The year is 2380, and the graduating cadets of Aurora Academy are being assigned their first missions. Star pupil Tyler Jones is ready to recruit the squad of his dreams, but his own boneheaded heroism sees him stuck with the dregs nobody else in the Academy would touch…

A cocky diplomat with a black belt in sarcasm
A sociopath scientist with a fondness for shooting her bunkmates
A smart-ass techwiz with the galaxy's biggest chip on his shoulder
An alien warrior with anger management issues
A tomboy pilot who's totally not into him, in case you were wondering

And Ty's squad isn't even his biggest problem—that'd be Aurora Jie-Lin O'Malley, the girl he's just rescued from interdimensional space. Trapped in cryo-sleep for two centuries, Auri is a girl out of time and out of her depth. But she could be the catalyst that starts a war millions of years in the making, and Tyler's squad of losers, discipline-cases and misfits might just be the last hope for the entire galaxy.

They're not the heroes we deserve. They're just the ones we could find. Nobody panic
First off, no the formatting is not the same as the Illuminae Files. Each chapter is from the POV of one our 7 characters. At the end of some chapters, there is a "page" from some kind of manual (training manual perhaps?) that explains people/places/terms used in the chapter.
Wow, oh wow. The Illuminae Files are fantastic. They're pretty close to perfection for me. I've been looking forward to Aurora Rising since I finished Obsidio last year. I was cautiously optimistic. Could Amie and Jay really write YA space odyssey that's truly epic AGAIN? The answer is a resounding YES.
Epic space-ness is in full force with the story from page one. Botched space missions, Space academy, heist during a party underwater on a SPACESHIP, Government conspiracies, and so much sassy banter. UGH. Perfection. The story kept me on the edge of my seat and I truly hated to have to put the book down.
The characters had perfectly defined voices. You never had to wonder whose chapter you were reading. The ease of the diversity of the character was fabulous. It's set several hundred years in the future. Of course, we've met aliens. Making part of the crew alien was a smart choice. I loved getting a bit of a glimpse of alien races. Finian (Betraskans) is bone white, long boned, and has a really complicated family tree. Kal (Syldrathi) is an olive skinned, violet eyed, member of a Warrior race. There's never an info dump session. You simply get glimpses through conversation and how others view them.
Squad 312 worked together beautifully. Their camaraderie and annoyances with each other felt very natural. There's some romantic tension but it really doesn't get in the way. I'm actually pretty pleased with one of the pairings. It's not who I would have put together but it works.
The bottom line? Another amazingly, epic space journey that's a sure start to a new favorite series.