This isn't my first attempt at book blogging. I ran The Cheap Reader for a number of years before burning out. I'm dusting off some of my reviews and giving them new life over here.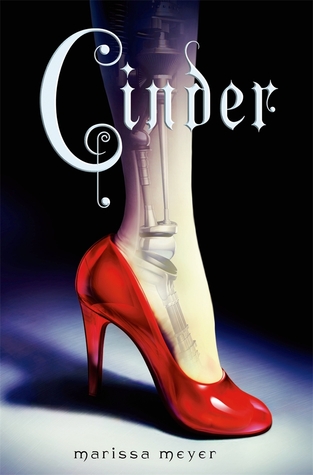 Humans and androids crowd the raucous streets of New Beijing. A deadly plague ravages the population. From space, a ruthless lunar people watch, waiting to make their move. No one knows that Earth's fate hinges on one girl. . . .

Cinder, a gifted mechanic, is a cyborg. She's a second-class citizen with a mysterious past, reviled by her stepmother and blamed for her stepsister's illness. But when her life becomes intertwined with the handsome Prince Kai's, she suddenly finds herself at the center of an intergalactic struggle, and a forbidden attraction. Caught between duty and freedom, loyalty and betrayal, she must uncover secrets about her past in order to protect her world's future.

Summary from Goodreads
Review
I liked that it wasn't a re-telling in the strictest sense. It was more like a story with  Cinderella elements added. I know I was a bit worried about a cyborg re-telling of Cinderella. If she had just simply retold the story but just made Cinderella a cyborg, the story would have been a bit…boring. Well, to me at least. I thought Meyer did a good job of keeping the story interesting and fresh by telling her own story and then slipping in  a few of the fairy tale elements (evil stepmother, the ball).
The science fiction was pretty well done. To me it slipped a bit into magic/fantasy because the science wasn't explained as well as it could have been (for my taste). I'm willing to overlook it since Cinder is the focus of the story and not the scientists. Cinder may be smart and strong but she still is a teenager who doesn't know what's going on. Not to mention that Meyer chose to focus on the politics of this world rather than the science. If you know me, you know I was ecstatic about that. It was really interesting seeing all the dynamics of this world. We have tension here on Earth between Humans and Cyborgs. Then on top of that there's tension between Humans and the Lunars? LOVE it. I would have loved to learn more about all of it but I'm sure Meyer will get to in one of the other books.
I was really shocked about the ending. Well, not shocked exactly. I predicted what would happen pretty early on but I was still hooked and read like a mad woman to finish the book. That's always impressive to me.
The bottom line? Very, very enjoyable. I kick myself a bit for not reading this sooner but I'm glad I waited because now I don't have as long of a wait to read Scarlet.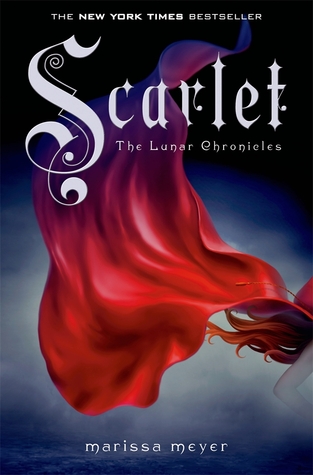 The fates of Cinder and Scarlet collide as a Lunar threat spreads across the Earth…

Cinder, the cyborg mechanic, returns in the second thrilling installment of the bestselling Lunar Chronicles. She's trying to break out of prison—even though if she succeeds, she'll be the Commonwealth's most wanted fugitive.

Halfway around the world, Scarlet Benoit's grandmother is missing. It turns out there are many things Scarlet doesn't know about her grandmother or the grave danger she has lived in her whole life. When Scarlet encounters Wolf, a street fighter who may have information as to her grandmother's whereabouts, she is loath to trust this stranger, but is inexplicably drawn to him, and he to her. As Scarlet and Wolf unravel one mystery, they encounter another when they meet Cinder. Now, all of them must stay one step ahead of the vicious Lunar Queen Levana, who will do anything for the handsome Prince Kai to become her husband, her king, her prisoner.

Summary from Goodreads
Review
I liked Scarlet. She was feisty, strong and not willing to back down.
I liked Wolf well enough but I didn't like his and Scarlet's instalove. I was also a bit unsure of whatexactly he was. Is he human? Is he a Lunar? Is he some kind of wolf-human hybrid?
It was cool to see how crazy Levana was. She really wasn't going to stop at anything to get Cinder.
It's terrifying that people are letting her. I do understand that she's able to "trick" people but it's pretty clear what her intentions are. I feel like someone besides Cinder should be catching on and trying to stop her. Come on, how many governments do we have on Earth? Shouldn't someone  stand up to her?
The story was very much a middle-of-series book. I really felt like Cinder's storyline didn't progress too far. She broke out of jail and found Scarlet. That was kind of it. I can see how Meyer was able to lay some pieces into place for the storyline .
The bottom line? I liked it but it wasn't super duper amazing.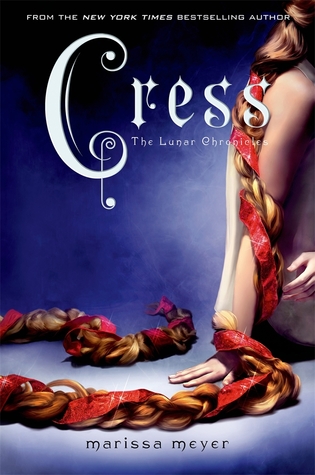 Rapunzel's tower is a satellite. She can't let down her hair—or her guard.

In this third book in the bestselling Lunar Chronicles series, Cinder and Captain Thorne are fugitives on the run, with Scarlet and Wolf in tow. Together, they're plotting to overthrow Queen Levana and her army.

Their best hope lies with Cress, who has been trapped on a satellite since childhood with only her netscreens as company. All that screen time has made Cress an excellent hacker—unfortunately, she's just received orders from Levana to track down Cinder and her handsome accomplice.

When a daring rescue goes awry, the group is separated. Cress finally has her freedom, but it comes at a high price. Meanwhile, Queen Levana will let nothing stop her marriage to Emperor Kai. Cress, Scarlet, and Cinder may not have signed up to save the world, but they may be the only ones who can.

Summary from Goodreads
Review
In Scarlet, I know I got annoyed with the jumping around in narration. I enjoyed it much more in Cress. It's pretty much necessary at this point because of how much is going on. I know it seems overwhelming trying to mentally keep track of so many things but Meyer has a way with her stories. Everything flows together beautifully so it makes perfect sense to skip around with all the characters. You almost didn't miss 'leaving' one set of characters because you were also invested in the next set of characters you're visiting.
I loved the way Meyer played around with Rapunzel for Cress. There are the obvious allusions to the story: the hair and the tower. I really appreciated the smaller allusions to it as well. Cress's father having to give her up. Thorne going blind. I just really love how Meyer takes elements of the fairy tales but makes them completely her own.
I really enjoyed seeing the main group of characters together. I think this is the first time we've seen them all together for a decent length of time. They certainly are a mismatched bunch. Despite being an odd crew, they worked well together.
The beginning of the story was a bit slow going because there was some set up that needed to be done. Once the set up was done, things started sailing smoothly. You could see things starting to fall into place and couldn't read fast enough to see what was to happen next. This book didn't feel like a filler book. It really was a bit step in moving things forward. Now that everything has been laid on the table, we're ready for the final fight.
I loved that we got a sneak peek of Winter!
The bottom line? Great transition into the final installment.