This isn't my first attempt at book blogging. I ran The Cheap Reader for a number of years before burning out. I'm dusting off some of my reviews and giving them new life over here.
Around the world, black hand prints are appearing on doorways, scorched there by winged strangers who have crept through a slit in the sky.

In a dark and dusty shop, a devil's supply of human teeth grows dangerously low.

And in the tangled lanes of Prague, a young art student is about to be caught up in a brutal otherwordly war.

Meet Karou. She fills her sketchbooks with monsters that may or may not be real; she's prone to disappearing on mysterious "errands"; she speaks many languages—not all of them human; and her bright blue hair actually grows out of her head that color. Who is she? That is the question that haunts her, and she's about to find out.

When one of the strangers—beautiful, haunted Akiva—fixes his fire-colored eyes on her in an alley in Marrakesh, the result is blood and starlight, secrets unveiled, and a star-crossed love whose roots drink deep of a violent past. But will Karou live to regret learning the truth about herself?

Summary from Goodreads
Review
I really liked Karou. She's spunky, funny, independent. She feels very real. She knows boys/love aren't going to fix everything. I totally want to be her friend.
Karou was obviously the focus of the story but the other characters were just as wonderful. Her "family" was a little weird but you had to love them. They're sweet and you could feel how much they love Karou. Zuzana was hilarious and adorable. I thought she was a great best friend.
It's a very interesting story. I know I held off on reading the book for quite a while because I thought it was going to be too weird. It was weird but it wasn't off-putting. It's not like anything I had read before.
The world building was quite awesome. I've never come across a book like this so I was endlessly fascinated by the world Taylor was giving us. Using teeth for magic?! What? I couldn't help but want to know more.
I was totally loving the story until the end. I hated being taken from a very crucial moment into an incredibly long flashback. I didn't hate the flashback per se but it wasn't the right time for it.
The narrator was awesome. She absolutely was Karou. She was bubbly and had a full personality. Her voices were pretty decent as well. If you have the opportunity, please try this as an audiobook.
Akiva… As usual, I didn't love the romance or Akiva. Star-crossed lovers aren't exactly original. I didn't love him. I did like that his love never wavered. I just didn't swoon over him.
The bottom line? I really enjoyed it except for the romance angle.
Once upon a time, an angel and a devil fell in love and dared to imagine a world free of bloodshed and war.

This is not that world.

Art student and monster's apprentice Karou finally has the answers she has always sought. She knows who she is—and what she is. But with this knowledge comes another truth she would give anything to undo: She loved the enemy and he betrayed her, and a world suffered for it.

In this stunning sequel to the highly acclaimed Daughter of Smoke & Bone, Karou must decide how far she'll go to avenge her people. Filled with heartbreak and beauty, secrets and impossible choices, Days of Blood & Starlight finds Karou and Akiva on opposing sides as an age-old war stirs back to life.

While Karou and her allies build a monstrous army in a land of dust and starlight, Akiva wages a different sort of battle: a battle for redemption. For hope.

But can any hope be salvaged from the ashes of their broken dream?

Summary from Goodreads
Review
Sooooo slow. I couldn't believe how slow the first half of the book was (for me). I know books and stories take a while to build up and set the scene. I'm fine with that. It shouldn't take over 200 pages to get to the really good stuff though. That's a bit much for me. Thankfully the story does get really interesting when everything started to fall into place. For the last half of the book I was glued to the book speed reading.
I found the book to be really confusing. That might be more my fault though. I did listen to the first book as an audiobook over several months. That's enough to make my memories of the book a bit shaky. Plus that was several months ago. I might have forgotten what was happening other than Karou=Madrigal and Akiva killed her family.
With that said, the story itself was still really confusing. There were multiple storylines going on which can be hard to follow. On top of that, the chapters were on the shorter side and you were frequently hopping between stories. Just when you start settling into a story, you're moved on to the next one. That made it really hard for me to really get into the story.
I did appreciate that Taylor did do some good world building. She fills us in on the politics of the worlds. She split the time pretty well between the Chimera world and the Seraphim world. You do start to understand each group's perspective on the issues. Despite the lovely world building, I personally just didn't care about either group for some reason.
The bottom line? Solid enough sequel but I didn't love it.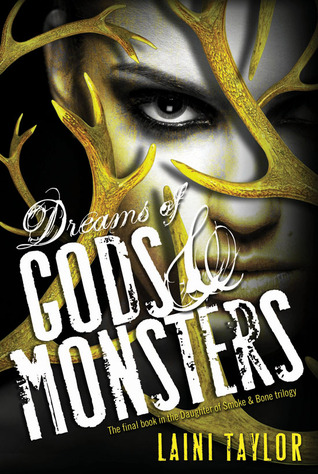 By way of a staggering deception, Karou has taken control of the chimaera rebellion and is intent on steering its course away from dead-end vengeance. The future rests on her, if there can even be a future for the chimaera in war-ravaged Eretz.

Common enemy, common cause.

When Jael's brutal seraph army trespasses into the human world, the unthinkable becomes essential, and Karou and Akiva must ally their enemy armies against the threat. It is a twisted version of their long-ago dream, and they begin to hope that it might forge a way forward for their people.

And, perhaps, for themselves. Toward a new way of living, and maybe even love.

But there are bigger threats than Jael in the offing. A vicious queen is hunting Akiva, and, in the skies of Eretz … something is happening. Massive stains are spreading like bruises from horizon to horizon; the great winged stormhunters are gathering as if summoned, ceaselessly circling, and a deep sense of wrong pervades the world.

What power can bruise the sky?

From the streets of Rome to the caves of the Kirin and beyond, humans, chimaera and seraphim will fight, strive, love, and die in an epic theater that transcends good and evil, right and wrong, friend and enemy.

At the very barriers of space and time, what do gods and monsters dream of? And does anything else matter?

Summary from Goodreads
Review
Unfortunately this book had the same problem as Days of Blood and Starlight. The beginning is almost painfully slow. The second half is much better. It's okay for those who stick with the book but I can imagine people might abandon the book for the slow start. It's a shame since the book(s) are worth finishing.
I really loved seeing the human world compared with the 'other' world. Knowing what's going on in Eretz is scary but seeing what's going on here on Earth is even scarier. It really drives the fantasy home. Mainly because what we see happening here on Earth is plausible. I would have loved seeing snippets of the human world's reactions to things in the other books as well.
As usual, Taylor's language is wonderful. It's SO beautiful. I don't usually enjoy flowery language in my books. There's nothing wrong with it, I just prefer my books to get to the point. The unfortunate side to Taylor's language is it can be difficult to read and comprehend what's happening. Maybe it's just me but towards the end I had a hard time keeping up with what was happening. There's so much going on. It can be difficult to keep up with who everyone is and what was going on in their stories. (I seriously need a good straightforward recap of the story to fully comprehend what I just read).
Difficulties aside, the story was really, really lovely. The story covered a lot of ground and did it pretty well. I never could have imagined peace but somehow it worked. Taylor was able allow characters to grow and evolve on their own so the changes all felt very natural.
The bottom line? Lovely ending to a great series.